Enjoy an unforgettable day of interior design & Malibu Coast wines as you explore the Estate and wineries at this Calibu Vineyard event.
About this event
Love interior design? Love wine? Then the Calibu Vineyard Show Home Wine & Design Experience is the exclusive event you've been waiting for. Luxury shuttles, powered by Lucid Motors, will tour you through the beautiful Malibu Hills on this multi-stop experience, featuring the ultimate in luxury design, inspiring destinations, and Malibu Coast wines.

First stop – the SURFACES Show Home: Calibu Vineyard. Created by celebrity designer Jennifer Farrell, Calibu Vineyard is a 7300 square foot, Montauk-inspired luxury retreat, nestled on a gated 3.5 acre estate in the stunning Malibu Hills. Take an exclusive tour inside this highly anticipated show home and surrounding vineyard, featuring the finest in bespoke design, surface materials, and trends. It's your unforgettable opportunity to explore the show home design, meet designer and television host Jennifer Farrell in person, and get insider access to resources and materials. Finish your first destination with wine tasting and light snacks, where you'll enjoy the inaugural vintage of Calibu Vineyard's 2021 Reserve Grenache and 2021 Grenache Rose wines, crafted by award-winning winemaker B. Alan Geddes. The tasting tour at Calibu continues with more Malibu Coast wines, and delicious surprises in store. More on Calibu Vineyard is online.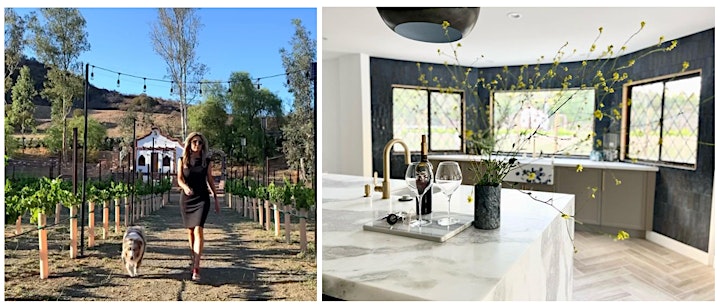 Next stop – Heaven's Hill Estate. Nestled on an angelic hillside in the idyllic community of Old Agoura, Heaven's Hill is a Spiritual Retreat Center and family-owned Vineyard, specializing in the production of Napa-quality wine. This spectacular outdoor oasis, with 360-degree views, is a magical setting to enjoy wine tastings as your experience continues. Heaven's Hill Retreat Sanctuary provides a source of inspiration and rejuvenation; the serene setting is the perfect getaway for self-discovery, relaxation, and connecting with nature. For the Wine & Design Experience at Heaven's Hill Estate, you will enjoy an Ojai-like experience of beautiful surroundings, relaxation, and exceptional wines. Your tasting tour will feature award-winning estate wines including the 2019 Boho Blend, 2019 Sinner Syrah, 2019 Goddess Grenache, and 2020 Rapture Rose.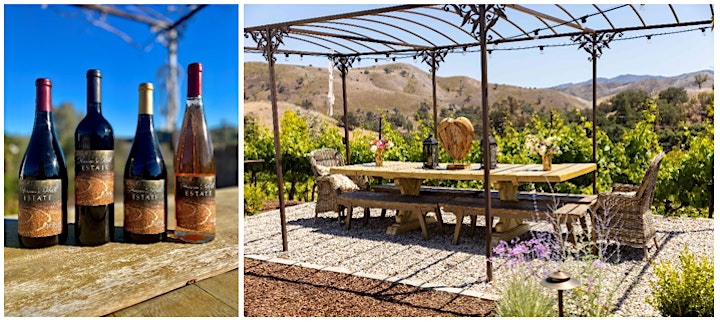 Whether you Uber or Lyft, or need a place to park your vehicle, the start of your journey will be King Gillette Ranch in Calabasas, one of the most stunning locales in the Santa Monica Mountains. This 588-acre ranch offers a rare unspoiled view of California's rich archaeological, cultural, and historic resources, including a Chumash settlement, and nationally significant structures designed for razor magnate King C. Gillette in the 1920's by Wallace Neff, architect of California's Golden Age.
King Gillette will serve as home base for the Calibu Vineyard Wine & Design Experience, with parking and shuttles will be running from this destination.
A portion of the proceeds from your registration go towards the conservation efforts of King Gillette Ranch.